Home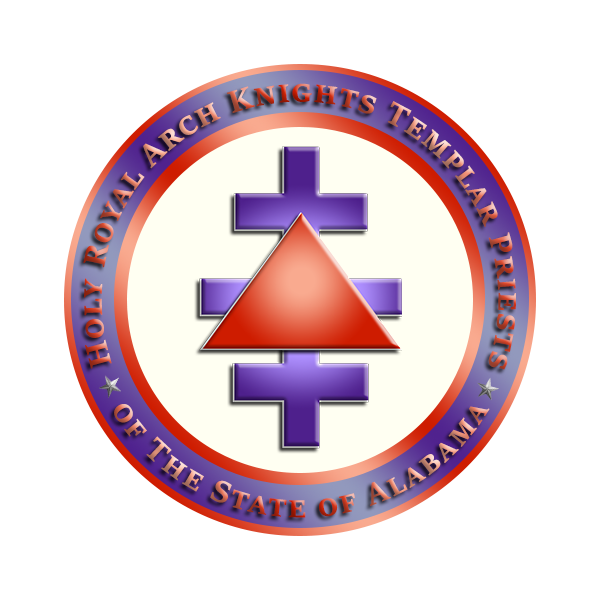 Jerusalem Tabernacle No. XXXII
Jerusalem Tabernacle meets in the city of Birmingham for its Annual Ingathering on the Saturday in December nearest to the 12th day of that month. The Tabernacle meets at 10:00 a.m. in the Birmingham Metro York Rite Building.
(map listed near bottom of page)
---
Official Contact Information:
Emory J. Ferguson, K.C.
Treasurer/Registrar
E-mail: gghp08-11@att.net
---
Brief Description:
The Holy Royal Arch Knight Templar Priests is an honorary and invitational organization with membership limitations and cannot be applied for. Members are selected and extended invitations on the basis of outstanding performance as a Commander of a Commandery of Knights Templar. The order has historic roots in England that trace back to 1786, with references back to 1686, the traditional year of revival. The "Priestly Order" was referred to within the ceremonies of "The High Knights Templar" in Ireland in 1755. There are records of the conferral of this Order in the United States during the 1800's but the authority is unknown. The Grand College of America, Holy Royal Arch Knight Templar Priests was formed in the United States in 1931. The limit of Regular Members in a Tabernacle is 33.
---
Officers of Jerusalem XXXII
| OFFICE | 2022-2023 |
| --- | --- |
| V.E. Preceptor | Ronald G. Andress |
| Deputy Preceptor | C. Sterling Hughes |
| Treasurer/Registrar | Emory J. Ferguson, K.C. |
| Seventh Pillar | William J. Burfitt, Sr. |
| Sixth Pillar | Sidney R. Cooley, Sr. |
| Fifth Pillar | Richard R. Losch |
| Fourth Pillar | Winston L. Each |
| Third Pillar | Dr. R. Kim Harrison |
| Second Pillar | James C. McGee |
| First Pillar | Thomas R. Bassett |
| Inner Guard | William A. Carter |
| Outer Guard | Michael F. Feld |
| Prelate | Thomas H. Nesbit |
---
Past Preceptors:
| Year: | Name: |
| --- | --- |
| 1991-1992 | Emory J. Ferguson |
| 1995-1996 | Michael L. Jones |
| 2007-2008 | Thomas F. Craig |
| 2012-2013 | Wayne D Jordan |
| 2013-2014 | Philip J. Sherman |
| 2014-2015 | Teddy R. Grogan, Jr |
| 2017-2018 | Maurice C. Himes |
| 2018-2019 | George L. Marshall Jr |
| 2019-2020 | Raymond C. Dunn |
| 2020-2021 | James A. Smith |
| 2021-2022 | Hiram O. Willams |
Living Members:
| Knight Priest's Name: | Date Ordained: |
| --- | --- |
| Michael L. Jones, K.C. * | 12/14/1968 |
| Emory J. Ferguson, K.C. | 12/9/1978 |
| Thomas F. Craig, K.C. | 12/10/1994 |
| Wayne D. Jordan, K.C. | 12/11/1999 |
| Phillip J. Sherman, K.C. | 12/11/1999 |
| Teddy R. Grogan, Jr., K.C. | 12/08/2001 |
| Roger A. Simmons | 12/14/2002 |
| Maurice C. Himes, K.C. | 12/11/2004 |
| George L. Marshall, Jr., K.C. | 12/10/2005 |
| Robert D. Moseson, K.C. | 12/10/2005 |
| Raymond C. Dunn | 12/8/2007 |
| Jamie A. Smith | 12/13/2008 |
| Hiram O. Williams, Jr. | 12/13/2008 |
| Ronald G. Andress | 12/12/2009 |
| C. Sterling Hughes | 12/12/2009 |
| Harold W. Worthington | 12/11/2010 |
| William J. Burfitt, Sr. | 12/10/2011 |
| Sidney R. Cooley, Sr. | 12/14/2013 |
| Richard R. Losch | 12/14/2013 |
| Winston L. Each | 12/10/2016 |
| Dr. R. Kim Harrison | 12/10/2016 |
| James C. McGee | 12/10/2016 |
| Thomas R. Bassett | 12/9/2017 |
| William A. Carter | 12/9/2017 |
| Michael F. Feld | 12/9/2017 |
| Thomas Nesbitt | 12/14/2019 |
| John Willis | 12/14/2019 |
| Johnny W. Strickland | 3/6/2021 |
| W. Scott Wadsworth | 3/6/2021 |
| David W. Whitaker | 3/6/2021 |
| William J. Burfitt, Jr | 11/27/2021 |
| Ted Ahora Loggins | 12/10/2022 |
* Resigned from Masonry
---
Google Maps View